Book Chris Cox to Play Your Event.
Festivals, Clubs, Private Parties and Corporate Events.
Your event is special, so only book the best!
Book Now
Grammy-nominated and multiple IDMA award winner, Chris Cox, stands as one of the United States' most talented and successful dance music artists. As a versatile figure in the industry, Cox wears many hats, excelling as a record producer, remixer, DJ, mix engineer, and multi-instrumentalist. His stellar career boasts a regular rotation of sold-out international DJ performances and studio productions, consistently yielding chart-topping hits.
With a prolific discography exceeding 700 productions, remixes, and mix compilations, Cox has secured over 60 #1 Billboard Dance Club hits, cementing his status as a global phenomenon. Notably rising to fame in the late '90s as part of Thunderpuss, he skillfully fused tribal-tipped rhythms with the powerful vocals of iconic artists such as Madonna, Whitney Houston, Jennifer Lopez, Mary J. Blige, Enrique Iglesias, Christina Aguilera, Britney Spears, Shakira, Janet Jackson, and the Pet Shop Boys.
Transitioning to a solo career, Cox continues to craft mind-blowing mixes for chart-topping artists including Jennifer Lopez, Britney Spears, Christina Aguilera, Rihanna, Katy Perry, Madonna, P!nk, Janet Jackson, Cher, Fall Out Boy, Kelly Osbourne, Celine Dion, and vocal legend Shirley Bassey.
Transitioning seamlessly into the digital realm during the 2020 pandemic, Chris Cox took a bold step into live streaming on Twitch, marking a new chapter in his illustrious career. This move not only showcased his adaptability but also added an interactive dimension to his artistic journey. Engaging with a global audience, fondly known as "Coxstars," Chris delivers diverse DJ music sets in his live Twitch sessions.
What sets these streams apart is Chris's innovative approach—he seamlessly weaves live performances on drums and keyboards into his DJ sessions, creating a hybrid experience that captivates audiences worldwide. This unique fusion of live instrumentation with electronic beats has further solidified Chris Cox's reputation as a trailblazer in the dance music scene, demonstrating his commitment to pushing the boundaries of musical expression.
Beyond his artistic endeavors, Cox is the co-owner of the Grammy-winning Interhit Records and serves as the CEO of his label and production company, Buildup Music LTD.
WATCH CHRIS LIVE STREAM ON TWITCH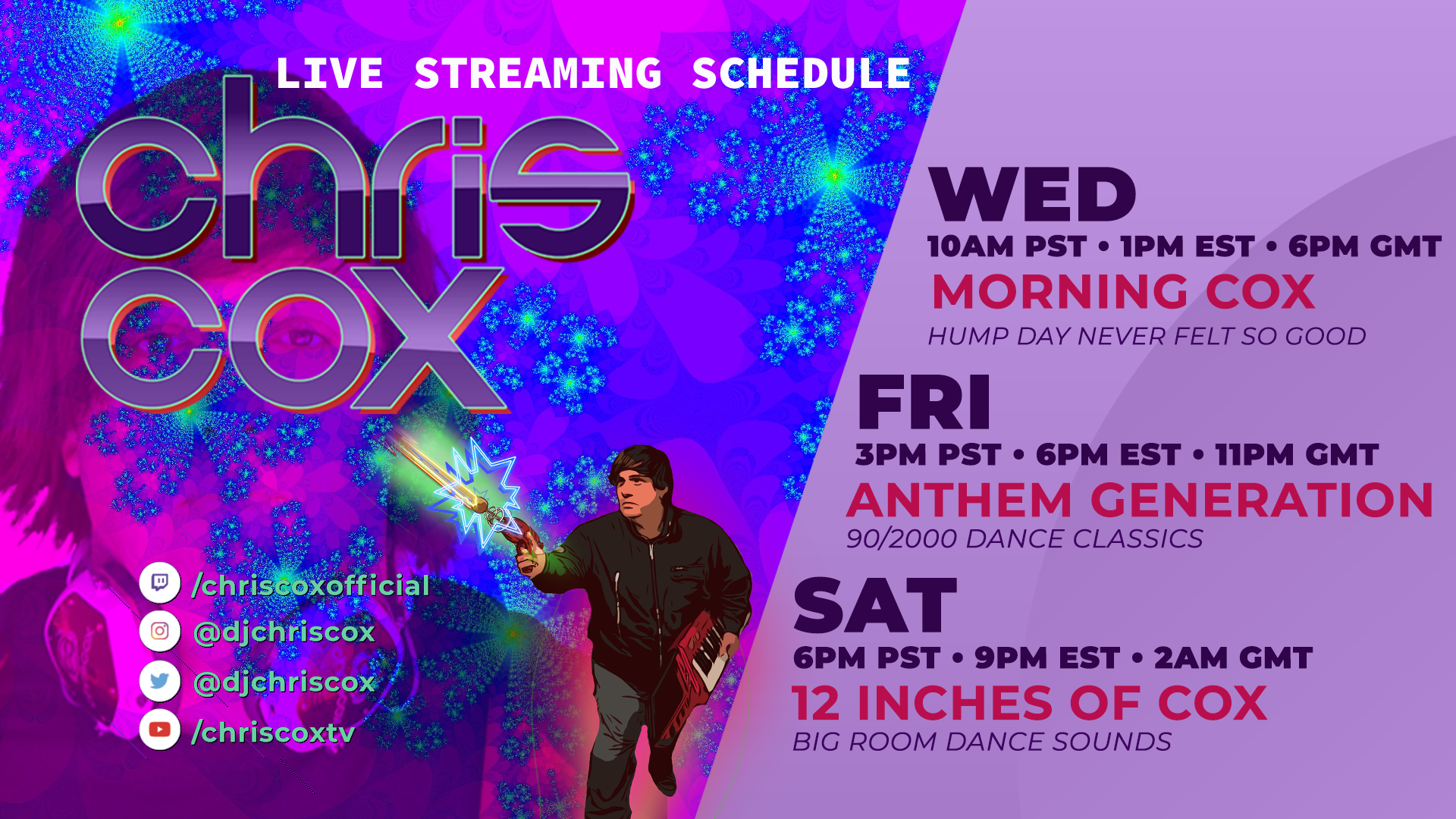 SELECT OFFICIAL PRODUCTIONS
Want to connect or get in touch?
Please use this contact form to get in touch with us. Wether you'd like to book Chris Cox for an event, or if you want to request info regarding remixes, production or any other management related issue.